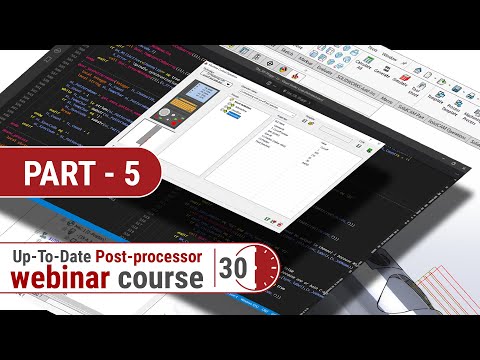 Up-To-Date Post-Processor webinar - Part 5 presented by Branislav Nimet
00:00 - Starting soon
00:59 - Introduction
02:57 – Changes for HH machines if Tilted plane definition is set By Kinematic
08:18 – Differences in @drill procedure between SC2020 and SC2021
09:54 – Differences when sub-procedures are turned on
11:36 – Rules for getting new @rotate_to_plane procedure in trace
14:09 – mac_ID and plane_data_ID variables
20:01 – New get-functions for target and stock data in position
27:30 – New get-function get_final_gear_ratio
34:40 – Dynamic offset parameter in VMID
In this webinar series, we are demonstrating the most usable get functions and how to practically use them in every Post-Processor.
There are also a lectures on how to handle the conversion between versions and support new features available in SolidCAM 2021.
The webinar series is targeted to all who already have knowledge about the basics of GPPL Syntax.
SolidCAM Settings application:
https://www.evernote.com/l/Al3IK9i1-...UNl6S5u2JHuNM/
Presentation tool used in the webinar:
https://www.evernote.com/l/Al39itppF...ZAp94IXePQXpQ/